Group Travel Medical Insurance
Short term missionary travel medical insurance for groups of 5 or more members.
Outreach Travel plans address the insurance needs of U.S. citizens and foreign nationals who need temporary medical insurance while traveling for international outreach anywhere outside of their home country. When your group is traveling for temporary outreach or mission purposes, Missions Medical Insurance can provide high quality travel medical insurance at affordable prices.
Outreach Group Travel Medical Insurance is designed for groups of five or more members looking for temporary medical insurance coverage while traveling outside of the United States and outside of their home country. In addition to medical benefits, the plan includes coverage for emergency medical, repatriation, and a choice of deductibles and plan maximums up to $1,000,000.
Daily rates are the same for all ages in the group and the maximum age is 79. Coverage can be purchased for as little as two days.

Short-term coverage available up to three years for travelers who take frequent trips throughout the year.
Patriot Multi-Trip Group is designed for groups of five or more people who travel frequently outside their home country throughout the year. The plan offers the ease and convenience of purchasing an affordable single annual premium plan that provides coverage for trips up to 30 or 45 days in length for each trip taken during a period of 12 months. The plan provides up to $1,000,000 of medical coverage and services.
There are two plans available: Patriot Multi-Trip International Group provides coverage for U.S. citizens that take multiple trips annually outside the U.S., and Patriot Multi-Trip America Group provides coverage for non-U.S. citizens that take multiple trips annually outside their home country and/or country of citizenship.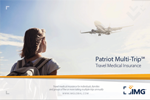 Long-term, annually renewable plan for groups of two or more missionaries and associated representatives
MP+International is designed specifically to provide comprehensive medical insurance to missionary groups by offering continuous coverage when overseas and back in the U.S. on furlough or deputation.


Missions / Missionary Travel Insurance
Get Updates